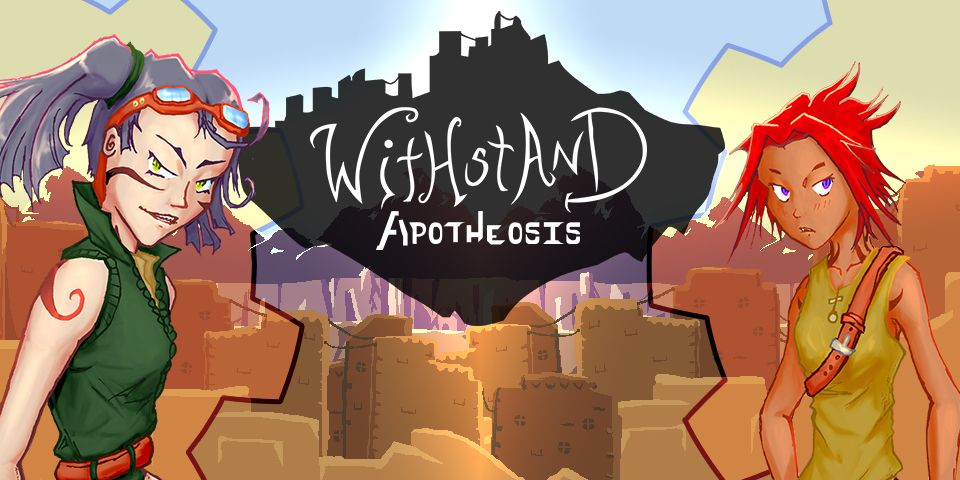 Withstand Apotheosis
A downloadable game for Windows
Withstand is a linear platform puzzle game with some combat heavy sections and minor adventure and metroidvania elements.
Konoci Mineta is an orphan living in a slightly Steampunk-inspired world, populated by honorable shapeshifters, obnoxious elves, and the occasional insane dictator. Use her wind magic as she embarks on a quest to get ingredients for a smoothie.
---
Journey across several different areas on the continent of Tergo, collecting delicious ingredients while defying obstacles in a fast-paced 2D platformer. Experience the four hour storyline unfold and uncover secrets about the world as Konoci Mineta travels through the treacherous lands.

---
Features:
Full Xbox controller support
Control customization
Built-in support for 4:3, 16:10, and 16:9 aspect ratios
24, 30, and 48 FPS frameskip
Included GM8.1 project file
(Game purchase includes Steam key, but does not require Steam to run).

---
Minimum Requirements:
OS: Windows XP or Later
Processor: Intel Core 2 Duo
Memory: 1 GB RAM
Graphics: 256 MB graphics memory and compatible GPU
DirectX: Version 9.0c
Hard Drive: 200 MB available space
Install instructions
Extract all files, and double click on the file with "game" in the title.
Download
Download
Withstand v1701, Unstable. Do not distribute.
121 MB